road transport
meet the road transport fuel savings experts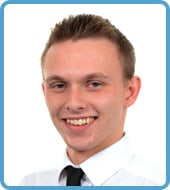 Meet Jamie – heading up our specialists helping road transport businesses to cut petrol and diesel refuelling costs.
If you would like to reduce your organisation's expenditure on diesel, petrol and Adblue®, as well as reducing your administration costs, receive additional services such as HGV parking and Truckwash you would benefit from calling him and his team.
Jamie Burton heads up The Fuelcard People's dedicated road transport sector team. He understands your refuelling needs, because he works with road transport organisations like yours every day. He also works with all the major fuel suppliers: BP, Esso, Shell, Texaco and the Diesel Direct  (Keyfuels) and UK Fuels networks.
years of experience
The Fuelcard People's years of experience, combined with the UK's widest range of fuel cards, enables us to give completely impartial advice. So, you are not pushed towards fuel card products designed for commercial firms, but can find a solution to match your specific circumstances and needs.
If you run Scania vehicles in your fleet, The Fuelcard People are Scania's preferred fuel cards supplier, and we have some exclusive deals available for you, click here to find out more.
Hauliers who currently purchase their own fuel and "bunker" it into the Keyfuels and UK Fuels bunker networks, may be interested in our stock transfer service, Bunkerstock, however if if you do business all over the UK, including a lot of motorway journeys, you might like to consider our Bunkercard offering.
Whichever fuel card you select, it will be backed by dedicated specialists and state-of-the-art eServices.
Contact Jamie, call him on 0844 870 6942 or simply apply here.
The road transport refuelling specialists are ready to help you find budget-stretching cost savings.