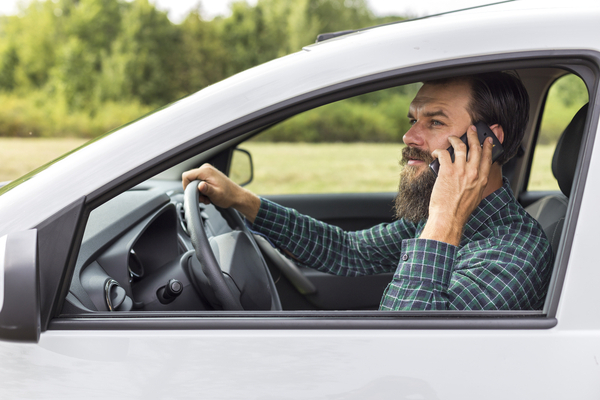 Mobile phone laws continue to be ignored after it emerged that a third of motorists still illegally use their phone behind the wheel.
In the past five years, the number of accidents in which a driver was distracted by their mobile phone has increased by almost a quarter (24 per cent), according to the latest government figures.
A study by Kwik Fit suggests the situation won't improve anytime soon either, despite tougher punishments that came into play in April.
It found that one in four motorists use their smartphone as a sat-nav or GPS, a fifth take calls or read text messages whilst driving and one in eight send texts. Additionally, one in six make calls without the use of a handsfree kit.
Those harsher penalties introduced earlier this year don't seem to have hit home with many motorists, as two in five people claim to be unaware that the penalty for using a handheld phone when driving had increased to six points.
Furthermore, just under half of 2,000-plus Brits surveyed didn't know that those caught using a phone without a handsfree set in their first two years of driving would lose their licence; a belief held more commonly among younger drivers.
Ignorance
The research found that drivers aged between 18 and 24 are nearly three times more likely than the average motorist to believe it's legal to use your phone when stopped at traffic lights, and twice as likely to say you can answer calls but not make outgoing ones, and that drivers are allowed to use their phone in slow-moving traffic. All of these beliefs are incorrect.
Almost half of London motorists say they flout the mobile phone rules – more than anywhere else in the UK. In contrast, drivers in the East of England were found to be the most law-abiding.
A spokesperson for Kwik Fit considered the study's findings to be "very worrying".
"Car manufacturers have made great strides in improving safety [but] it is vital that drivers remember that they are the most important safety feature in the vehicle," they said. "Any form of distraction can have serious consequences, as sadly the statistics clearly show."
Ben Robb, brand manager at The Fuelcard People, added: "Young drivers may have obtained their licence, but they will only truly learn to drive over many years, even decades, behind the wheel.
"Therefore, it is vital something is done to educate inexperienced drivers about the reality of life on the road."