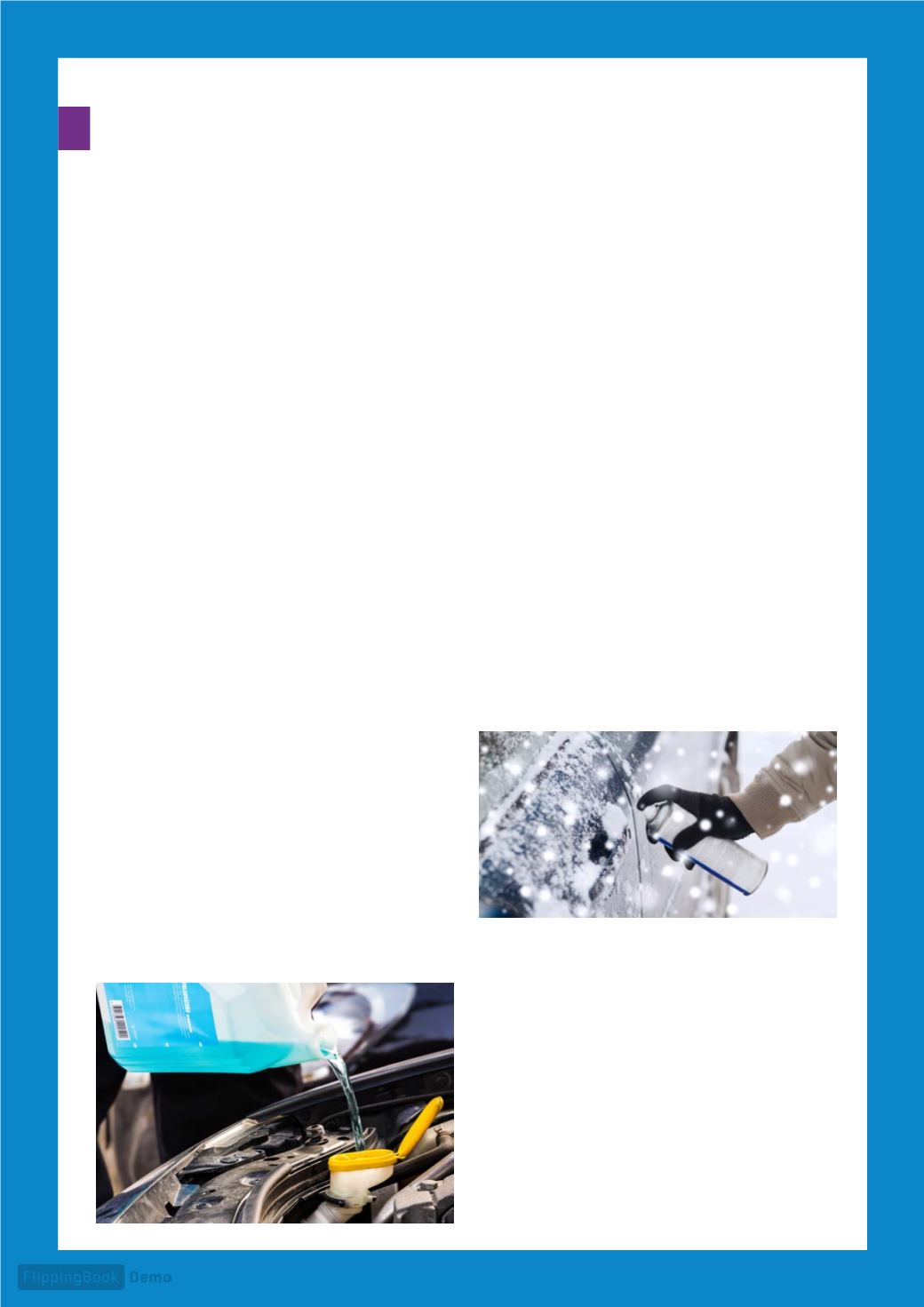 TOP 5 WINTER CAR ISSUES
Winter sees a massive increase in
car problems ranging from common
nuisances to top causes of breakdowns.
That's why we've put together a list of
our top five winter car issues – how
many of these have you encountered?
1. Frozen windscreen
washers
Not a massive issue but a common
inconvenience for motorists in winter
is the freezing of windscreen washers.
Cause:
the cause is simple – a
combination of not using a strong
enough screenwash solution and lower
temperatures.
Problems:
drivers often only realise
how useful windscreen washers are
when they need to use them and they
fail! A possible worse issue that could
arise is continuing to run the washer
pump when it's frozen which can lead
to a burnt-out motor or blown fuse.
Solution:
use a proper screenwash
solution all year round and remember
to use a stronger or undiluted mix
during the colder winter months which
will ensure the screenwash won't
freeze.
2. Frozen door locks and
seals
This could leave you unable to unlock
or open your car doors.
Cause:
leaving fallen snow on car for
a long period without clearing it which
causes the soft snow to freeze solid.
Problems:
forcing frozen locks
could cause serious, expensive-to-
fix damage, and forcing frozen-shut
doors to open could damage the seals
leading to future water ingress.
Solution:
clear fallen snow daily whilst
it is still soft and loose, and a squirt of
a water-dispersant like spray grease
could prevent the locks from freezing.
Use a de-icer around the door edges
to release if they feel harder to open
than usual.
3. Battery problems
Old batteries often fail during winter
when the colder temperatures are
harder on them and motorists use
more electric functions such as lights,
heaters and fans.
Cause:
colder temperatures make
old batteries work harder: ability
to output power drops, recharging
capacity drops and load increases.